Speeding up AI development in medical imaging, creating the Taiwan advantage once again
2018.12.26
MOST opens the first pathology database for cross-institutional annotated medical images in Taiwan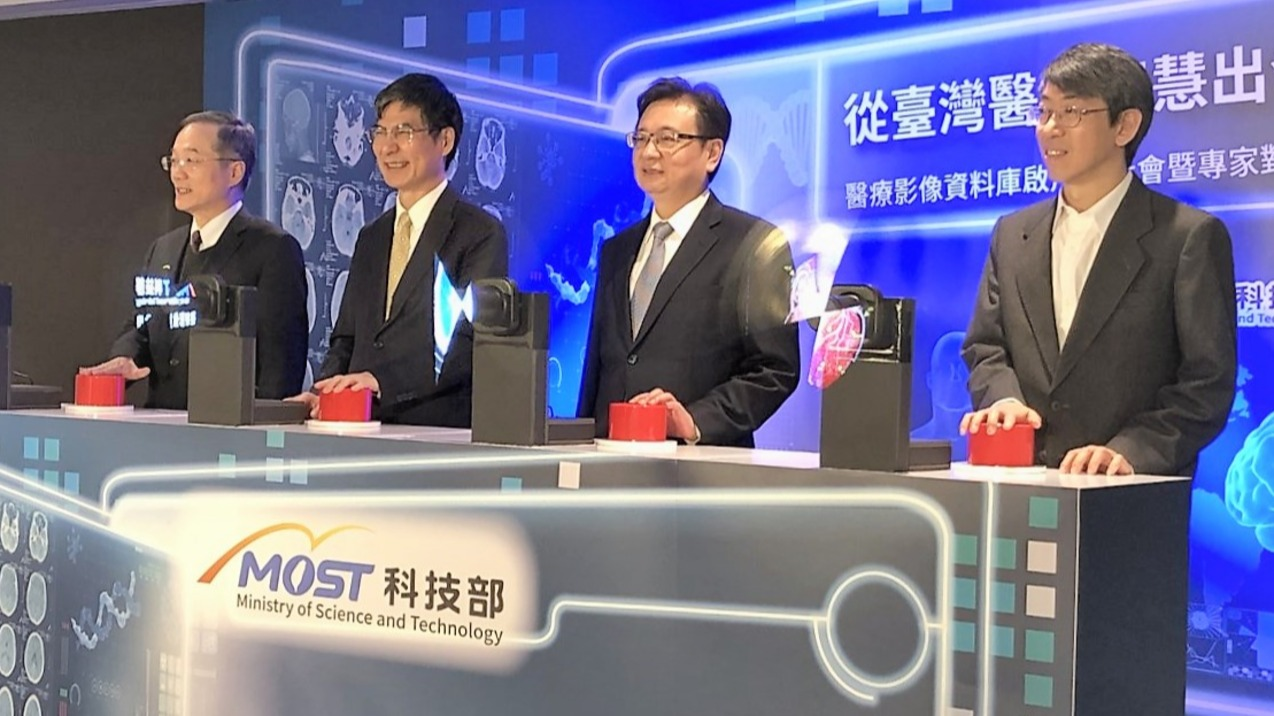 Jointly launching the database are the minister and representatives from three large medical care groups: National Taiwan University, the Veteran General Hospital, and Taipei Medical University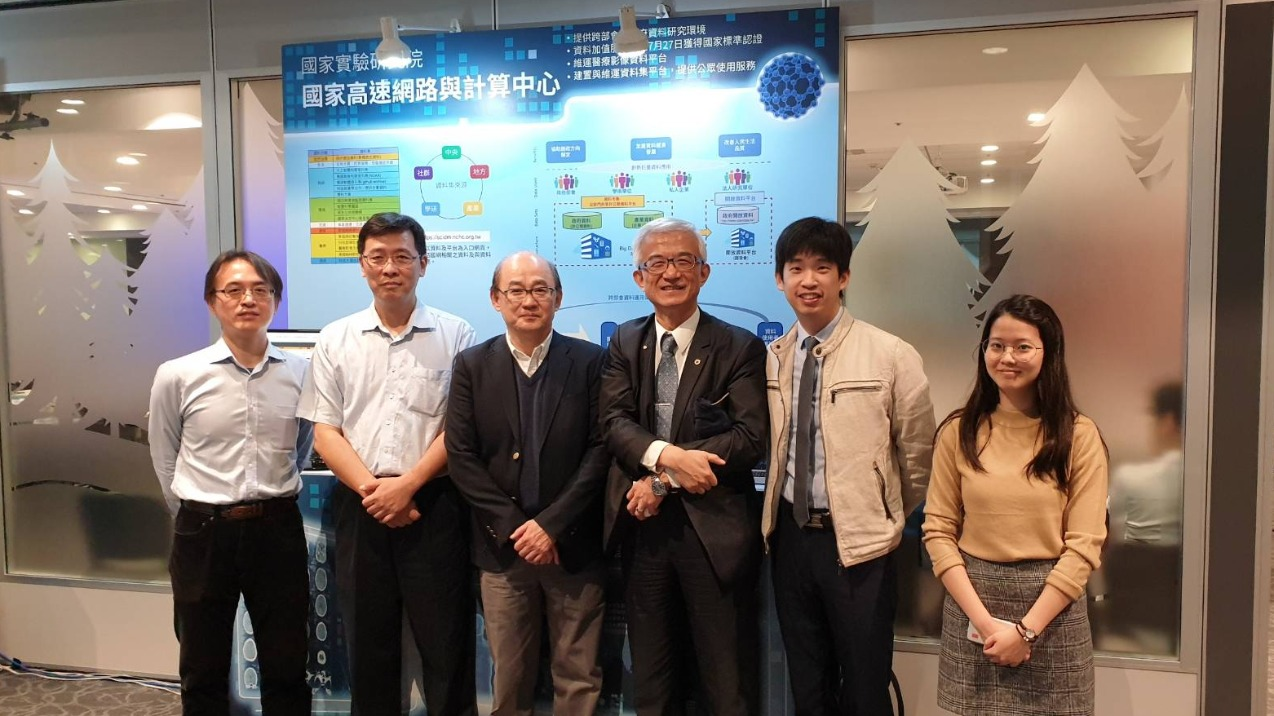 NCHC Deputy Director General Cai Jun-hui and his data team pose with Taipei Medical University President Xie Bang-chang and his team
Combining AI and medical care is a developing international trend, which creates new development space for medical care and injects new growth energy into the field. AI computing in medicine requires large amounts of disease-annotated data to provide standard answers to AI learning. Therefore, Ministry of Science and Technology joins hands with three large health care groups--National Taiwan University, the Veteran General Hospital, and Taipei Medical University--to establish a native, cross-institutional pathology database with annotated medical images, which zeros in on severe diseases of the Taiwanese population such as those in the heart, lung, and brain. Pooling together the experience and professional knowledge base of the best physicians in Taiwan, this project uses AI technology to improve medical technology in Taiwan and get a head start on smart medicine.
An interdisciplinary collaboration has established 10,000 pieces of medical image annotation for AI training
Ministry of Science and Technology kicked off the "medical images special project" in October 2017. The project has formed an interdisciplinary team of professional medical researchers from three large health care groups and AI professional researchers from National Taiwan University, National Taiwan University of Science and Technology, National Chiao Tung University, and National Central University. The team processes, compiles, and interprets medical images that meet the training needs of AI; the team will develop an AI algorithm that automatically analyzes and judges medical images; the team aims to solve problems and to develop solutions that can actually be in a medical setting or help answer clinical questions. After one year of hard work, the team has so far established medical images of 46,450 cases, including 15 types of images, such as CT scans, angiography, and nuclear magnetic resonance imaging of patients with coronary artery disease, brain metastasis tumors, primary brain tumors, acoustic neuroma, and lung cancer. Of those, 17,950 cases have been annotated with disease information, which will be expanded further in the future.
Offering public use for academic research while complying with personal information protection laws and regulations and honoring data owner's autonomy
To spur more innovative applications, enlarge the value of data, and improve the benefit of resources investment, the project team will transmit the medical images and the annotation that they have marked to the platform at National Center for High-performance Computing (NCHC) of National Applied Research Laboratories (NARLabs), to be offered to other research groups for them to collaborate the project team to conduct academic research for the purpose of public health. Before data is transmitted to NCHC and before it is offered for research use, the data will be processed to remove identifying information in order to protect the privacy of data owners. The project team has also established a dynamic mechanism with which data owners may give their consent. To honor the autonomy of data owners, they are notified before their data is sent out for research use, they are also updated on the usage status of their data, and they can opt out of data use altogether.
AI assistance lightens the burden of physicians and benefits the public.
Medical imaging is presently the primary non-invasive diagnostic tool. Each patient case may involve several to several hundred images. It is a heavy burden for physicians to read and judge them manually. The project team combined AI technology with medical image diagnostic standards for diseases to explore and develop a tool that can automatically analyze medical images. This not only helps physicians speed up medical images reading and judging but also raises the consistency and precision of the diagnosis. This also shrinks the amount of time patients spend on getting medical care, reduces invasive tests, and lowers medical expenditures. People living in remote locations can get more timely diagnosis and enjoy better medical care with better efficiency. Currently, the "medical images special project" of the Ministry of Science and Technology has developed some diagnosis assistance technologies. For example, the National Taiwan University team, working on cardiovascular disease, has used AI to automatically combine the structure of coronary artery with myocardial perfusion function, the Taipei Veteran General Hospital team, working on brain disorders, has used AI to automatically detect intracranial brain metastasis tumors to help physicians diagnose, and the Taipei Medical University team, working on lung cancer images, has used a deep annotation and AI model to develop a tool to help with the classification of lung cancers, diagnosis, and prognosis.
Minister of Science and Technology Liang-Gee Chen indicated that Taiwan has many medical experts whose medical techniques are highly regarded internationally. That is some achievement that Taiwan can be proud of. Now the establishment of a database of medical images and the research in AI applications in medicine can leverage their rich and precious clinical experience to create greater values. These Taiwanese medical care advantages can help create another Taiwanese advantage.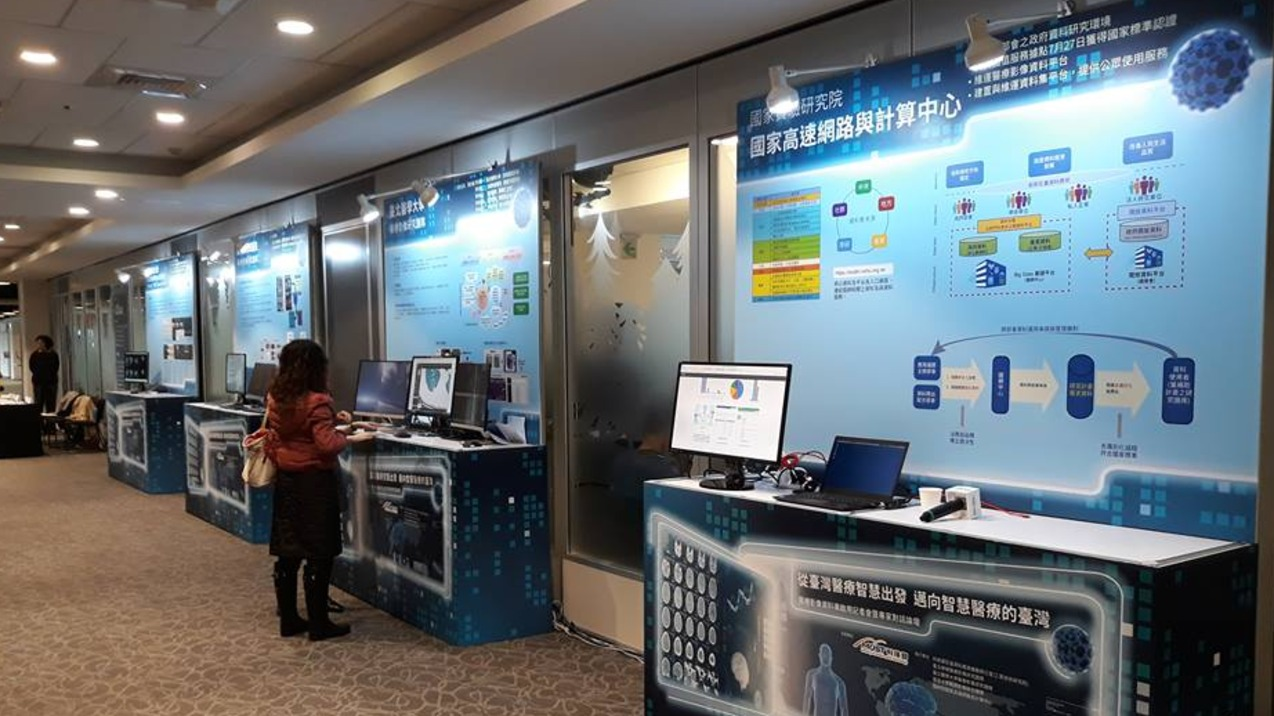 NCHC's booth in the venue displays the database platform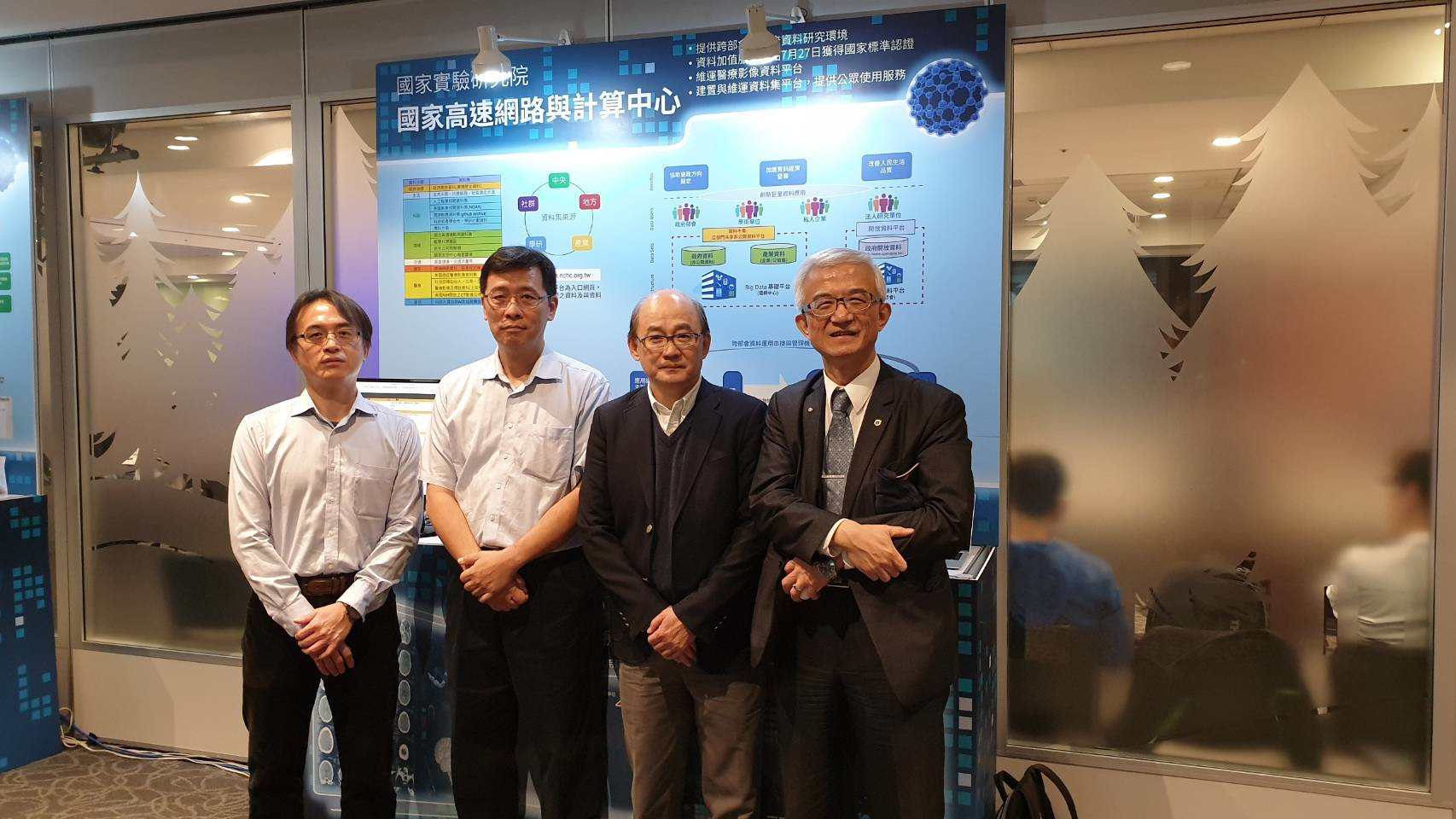 From right, Taipei Medical University President Xie Bang-chang, NCHC Deputy Director General Cai Jun-hui, research fellow Huang Wei-cheng, and section head Xiao Zhi-huang