International Center for Land Policy Studies and Training (ICLPST) arranged for high-level government officials in GIS and urban development from 28 countries to visit NCHC on April 24. They included Belarus, Czech Republic, Eswatini, Greece, Guatemala, Honduras, Indonesia, Korea, Kosovo, Kiribati, Lithuania, Malaysia, Marshall Island, Mexico, Mongolia, Nicaragua, Palau, Papua New Quinea, Paraguay, Philippines, Poland, Saint Lucia, Serbia, Slovakia, Slovakia, Solomon Islands, Turkey, and Vietnam.

The ICLPST indicated that over the years private Taiwanese organizations, through exchanges and training, have formed precious friendship with many countries across the globe. It thanked the assistance provided by legal persons under Ministry of Science and Technology over the past two years. NCHC's achievements in the promotion of the digitization of land information have helped Ministry of Science and Technology conduct diplomacy, and NCHC has done its part in serving the nation. Most of the guests this time are high-ranking government officials or professionals who were important and who could represent their governments. A past participant became the premier of his nation. Therefore, the friendship that we have built with the visitors is particularly precious.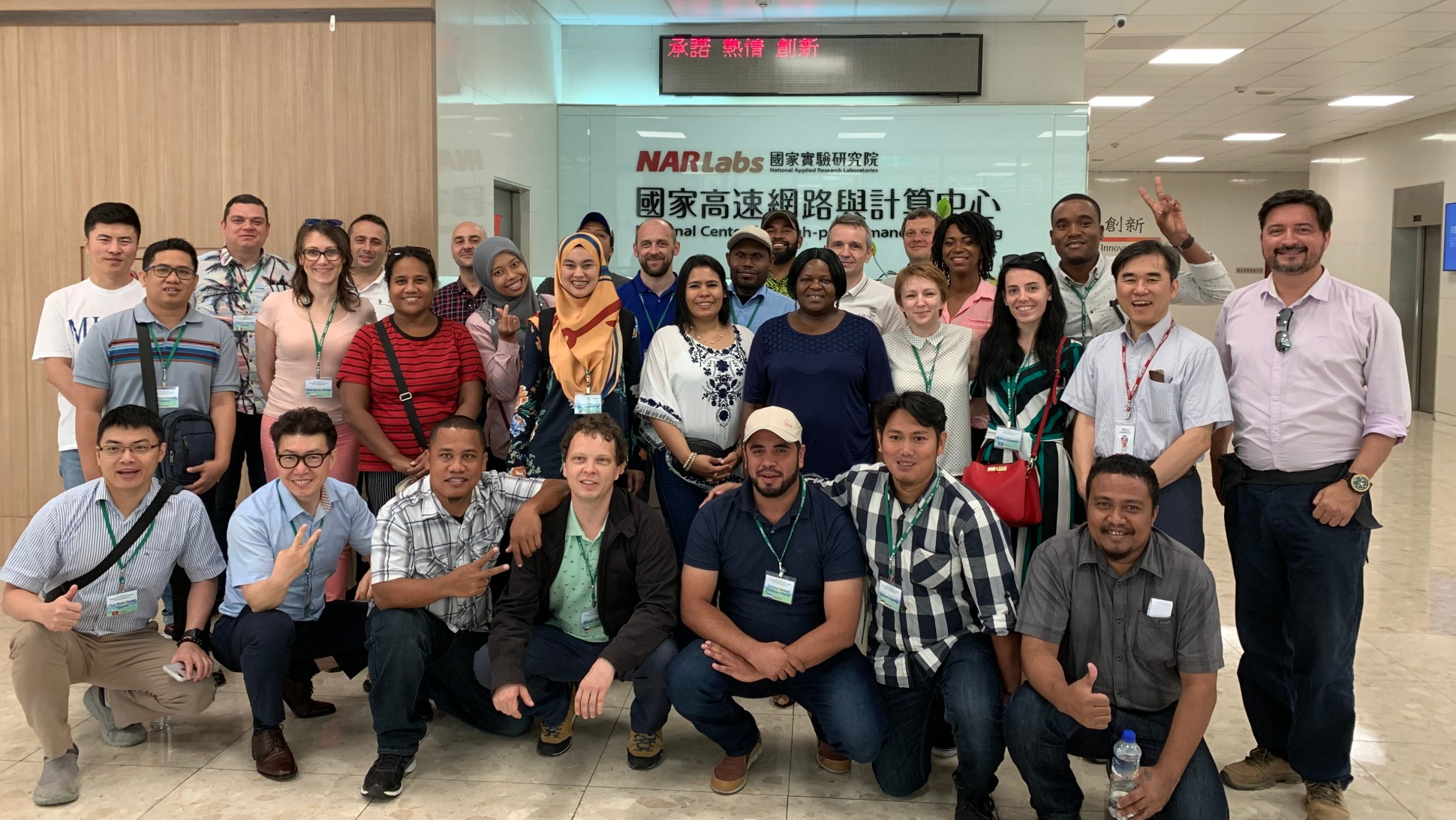 Twenty-nine VIPs from 28 nations at the NCHC

NCHC Deputy Director General Hsi Ching Lin received the guests. He first introduced them to NCHC and showed them Taiwania 2--the most powerful AI mainframe in Taiwan. He also explained how NCHC's applications manage environmental and geospatial data. Dr. Lin Ching-yao of NCHC followed with a presentation of how NCHC applied Tile Display technology to simulate changes in global weather 45 days into the future. Chen Nai-hua, special project assistant research fellow at NCHC, reported on the results of geospatial big data analytics. Finally, Zhang Hong-sheng, associate research fellow at NCHC, showed 3D digitized information visualization of geospatial data.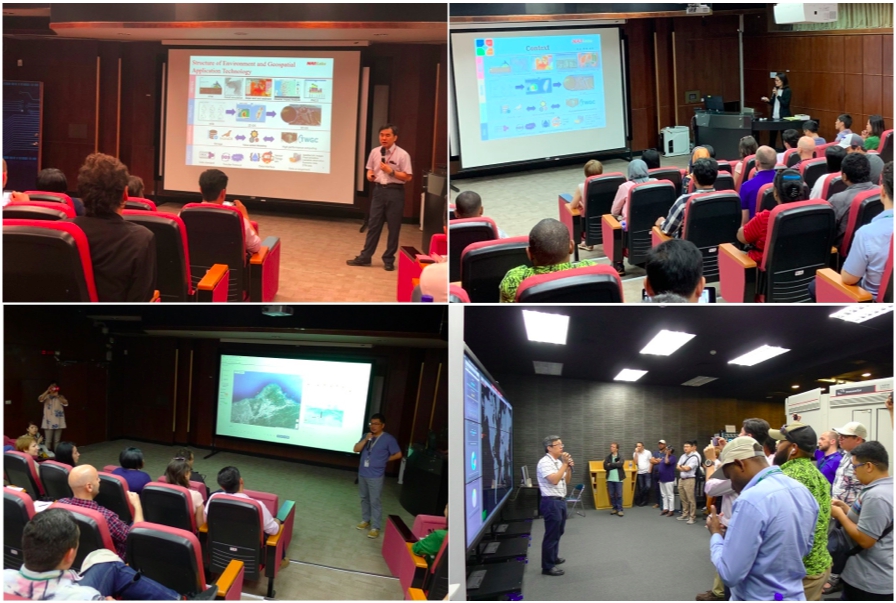 NCHC research fellows discuss application developments of forward-looking technologies in Taiwan

The representatives from 28 nations had energized discussions about the actions and results of GIS at their respective countries. The representatives from the Czech Republic and Greece, were invited to talk about the geoinformatics policies and relevant technological applications in their own country.

Assistant Professor Dr. Pavel Svec of Department of Geoinformatics, College of Geology, Technical University of Ostrava shared his research results. He pointed out that a communicable disease in the South Bohemian Region of his country was caused by pathogens carried by ticks. To give people a picture of the distribution and expansion of the disease, Professor Pavel Svec and his team combined big data analytics, GIS geospatial informatics, and data visualization techniques to present the dynamic information about this tick-borne communicable disease.

Mr. Archontis Vasileios Sismanidis, General Secretariat of Public Property at the Ministry of Finance, Greece, shared with the group geoinformatics platform in Greece, and he did a demo in which users could enlarge, shrink, or click on a particular region to browse. This platform helps the user see at a glance the division of regions in Greece. He specifically pointed out that sensitive regions had been specially handled on that platform.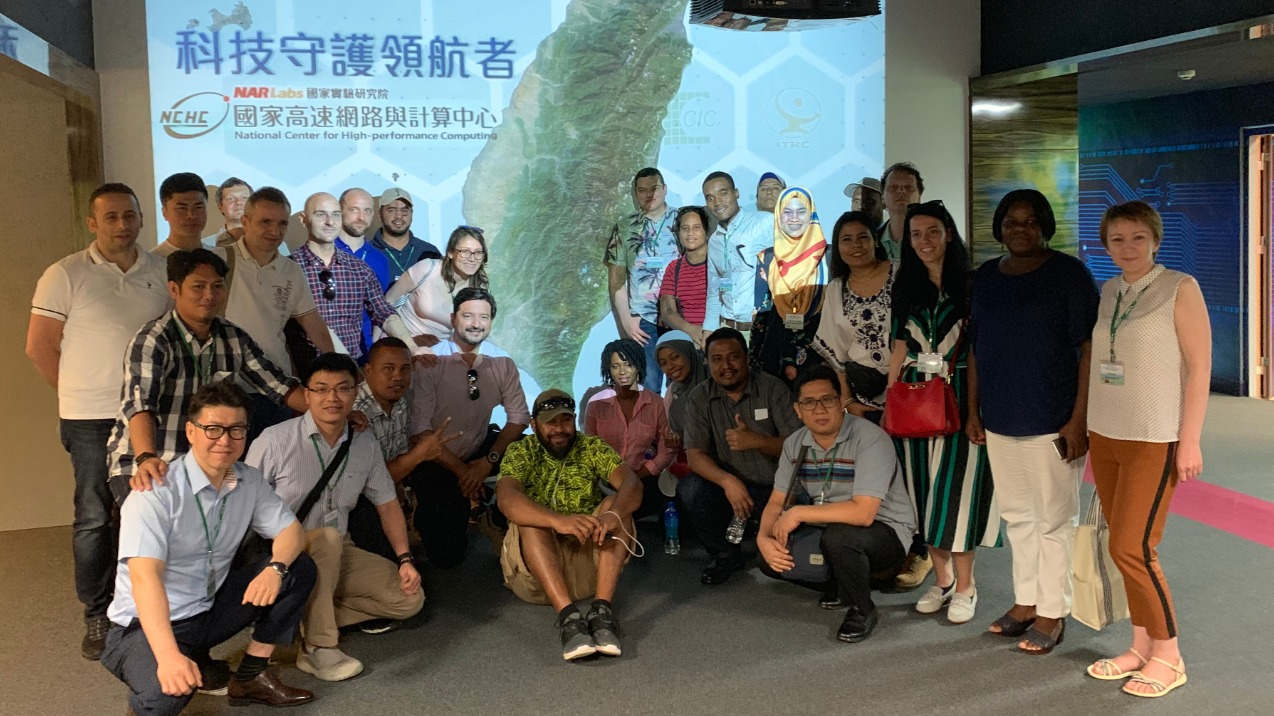 Visitors pose for group photos
The leader of the visiting delegation and Deputy Director General Lin exchange gifts
To NCHC, this visit was a professional exchange, but to Taiwan it was meaningful technology diplomacy. In the absence of formal diplomatic ties, the visiting officials and experts were all positive about the technological advance in Taiwan, leaving unlimited space for their future technological collaborations and exchanges with Taiwan.