Claim your seat at the 2020 SCSE AI Technology, Applications, and Innovation for Digital Cities
Publicsh Date:2020.06.29
Online forum: 2020 SCSE AI Technology, Applications, and Innovation for Digital Cities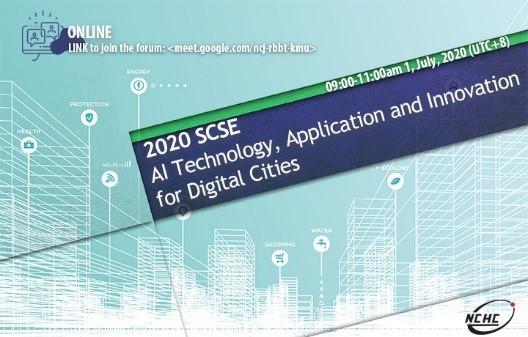 AI Technology, Application and Innovation for Digital Cities
This online meeting will revisit the topic of last year's meeting: AI Technology, Applications, and Innovation for Digital Cities. It will invite internationally renowned experts to continue to explore high-performance computing, big data, and AI as they relate to digital cities.
NCHC Director General Shepherd Shi will kick off the meeting with a short address on digital transformation. David Corman, Program Director at the National Science Foundation (NSF) with responsibilities over the Smart and Connected Communities (S&CC)project will talk about the state of the project and his plan for its future. Then Charlie Catlett, a famous scholar on high-performance computing at the Argonne National Laboratory, and Cathy Wu of the Massachusetts Institute of Technology (MIT) will give their predictions for an AIOT digital city platform named AOT and traffic conditions in future cities once self-driving vehicles get on the roads, respectively. Finally, Beth Plale of Indiana University and also the Science Advisor for Public Access at the NSF, and Felix Wu, a well-known researcher of data on Facebook at University of California, Davis (UC Davis) will share their thoughts on the core issue about digital cities: the fairness, trust, and privacy of data.
The online forum will be held on July 1st, 2020 (Wednesday) from 09:00 to 11:00 in the morning. You may visit Smart City Summit & Expo official YouTube channel to view the archive.
Event website:
https://event.nchc.org.tw/2020/SmartCitiesAI/
Registration:
https://seminars.tca.org.tw/D10m00712.aspx